History / Research / Articles
Biomagnetism Pair Therapy
History of Biomagnetic Pair Therapy
Dr. Issac Goiz of Mexico
Although basically unknown in the U.S., biomagnetism is practiced in many countries, especially in Central America, South America and parts of Europe.
Dr. Isaac Goiz of Mexico first discovered the medically healing power of "pairs" of magnets over 26 years ago when he was working with HIV patients.
His revolutionary discovery was inspired after he attended a course on bioenergy held at the medical school of the University of Guadalajara in Mexico, taught by Dr. Richard Broeringmeyer.
Broeringmeyer researched methods of single pole magnets, including the effects of magnetic fields on living organisms.
Dr. Broeringmeyer shared that the body's organs and tissues can become magnetically polarized. He used the technique of Kinesiology (muscle test) to locate magnetic polarizations (and pH alterations) in the body.
Inspired and enthused, Dr Goiz returned to Mexico and experimented with single-poled magnets in pairs and monitored the body's responses to these applications. Dr. Goiz discovered the first biomagnetic pair consisting of the thymus and rectum on one of his AIDS patients.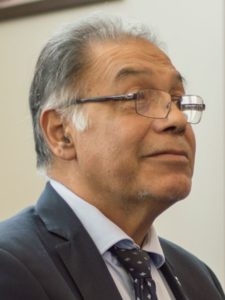 Dr. Goiz proposed that this pair of points have a relationship to each other for harboring the pathogens that cause AIDS: the HIV virus in the rectum and Escherichia coli in the thymus gland. What makes it possible for these two pathogens to survive in these niches is the alteration of the local pH values: the virus relishes an acid environment while the bacteria an alkaline one.
Furthermore, according to Dr. Goiz, these two pathogens resonate with each other and cause the collapse of the immune system. Dr. Goiz calls this bi-focal relation between these two disease-causing points of the body the "biomagnetic-pair."
Amazingly, the patient recovered shortly after receiving Biomagnetic Pair Therapy from Dr. Goiz.
Where did Dr. Isaac Goiz Duran come from?
Dr. Isaac Goiz Duran of Mexico City has taught it for 30 years.  It is likely that he learned it from Richard Broeringmeyer, a scientist from Kentucky and the Chief Medical Officer of NASA in the 1980's, and further developed the work.

Dr. Richard Broeringmeyer  spent many years researching the effects of magnetic fields in living organisms, based on the work and research of Albert Roy Davis (Florida, USA) in the 1930's. During the 1970's Dr. Richard Broeringmeyer studied the effects that the lack of gravity had over the astronauts, which led him to experiment balancing their bodies with magnets.  Read more http://biomagnetips.com/magnet-therapy-history/

Dr. Broeringmeyer discovered the effects on astronauts exposed to changing magnetic fields of being in space and returning to earth. He worked meticulously to develop a theory, and worked out the first 150 biomagnetic pairs for treating the human body. You can read more details at biomagnetism.net.
Benefits of BioMagnetism
BioMagnetism has proven to significantly benefit people with a wide range of conditions:
Acne
Allergies
Alzheimer's
Anemia
Anxiety
Arrhythmia
Arthritis
Asthma
Attention Deficit Disorder (ADD)
Autism
Back, Neck, Joints and Muscle Pain
Cancer
Candida
Carpal Tunnel
Chronic Fatigue
Chronic Pain
Depression
Diabetes
Digestive Disorders
Emotional Issues
Eczema
Fibromyalgia
Flu
Fungus
Glandular Dysfunctions
Heartburn
Herpes
Hepatitis
High Cholesterol
HIV
Impotency
Infertility
Low Libido
Lyme Disease
Lupus
Low Energy
Meningitis
Menopause and Pre-
Menopause Symptoms
Migraines
Parasites
Parkinson's
pH imbalance
PMS
Psoriasis
Pain
Poor Circulation
Pulmonary Disorders
Sciatica
Sexual Disorders
Sinusitis
Skin Disorders
Stress
Rheumatism
Ulcers
Varicose Veins
Tendinitis
Tennis Elbow 
Similar to Magnet Is Biomagnetism similar to magnet therapy? .... No!
It is not similar to magnet therapy. Their only similarity is they both use magnets.
Magnet therapy uses a single pole magnet solely for dysfunction or injuries under two concepts:
a)  South Pole as Analgesic
b)  North Pole as Anti-inflammatory

The magnetic fields used for this purpose are of low intensity (between 100 to 500 gauss) and are applied for longer periods of time, hours or days, and in areas that show specific symptoms.
Biomagnetism, on the other hand, uses pairs of high intensity magnets (1,000+ gauss) placed in specific locations for a relatively short amount of time (10 to 90 minutes depending on the person's location in relation to the equator).
Biomagnetism promotes healing by altering the pH of specific areas creating a hostile environment for pathogens. 
DOWNLOAD  PDF  RESEARCH Documents below:
1)  What is BioMagentism?
2) Biomagnetic Pair Therapy and Typhoid Fever
3) Medical BioMagnetism Could Be a New Way
4) Healing at a Distance is Possible